Why Sofa Beds Are a Great Choice for Any Home
In today's hectic, frantically-paced world, the way we use our living spaces is continually evolving. Whether you're living in a compact apartment or looking to maximise the utility of a guest room in a larger home, a sofa bed offers a versatile solution that combines style, function, and convenience. In this post, we'll delve into the key benefits of owning a sofa bed, focusing on its space-saving attributes, multifunctionality, and the convenience it offers when you have guests. Take a read of our post to learn more. 
One of the most compelling advantages of a sofa bed is its space-saving design. If you have a smaller living space like a studio apartment or tiny home, you'll know every square foot counts. A sofa bed serves as a two-in-one furniture piece, functioning as a comfortable sofa during the day and transforming into a bed at night. 
This dual functionality eliminates the need for a separate bed and sofa, freeing up valuable floor space for other uses. Even if you have a larger home, a sofa bed in a guest room or basement can make room for a home office, workout area, or playroom for kids.
The multifunctional nature of a sofa bed extends beyond its basic two-in-one utility. Modern sofa beds come with various features that add to their versatility. Some models offer built-in storage compartments, perfect for stashing away bedding, pillows, or seasonal items. Others come with advanced ergonomic designs that provide excellent back support, whether you're sitting or lying down. 
Additionally, the aesthetic designs of sofa beds have come a long way. Gone are the days when owning a sofa bed meant compromising on style. Nowadays, sofa bed options come in a range of designs and materials, from sleek, modern lines to classic, plush upholstery, ensuring that your sofa bed complements the existing décor of your home.
If you enjoy hosting friends and family, a sofa bed is a game-changer. It allows you to accommodate guests without the need for a dedicated guest room. Even if you do have a guest room, a sofa bed provides additional sleeping space for when you have more visitors than your regular beds can handle. 
Setting up a sofa bed for guests is usually a straightforward process, often requiring just a few simple steps to transform it from a sofa into a bed. This ease of use makes it convenient not only for you but also for your guests, who won't have to grapple with complicated mechanisms or uncomfortable sleeping arrangements.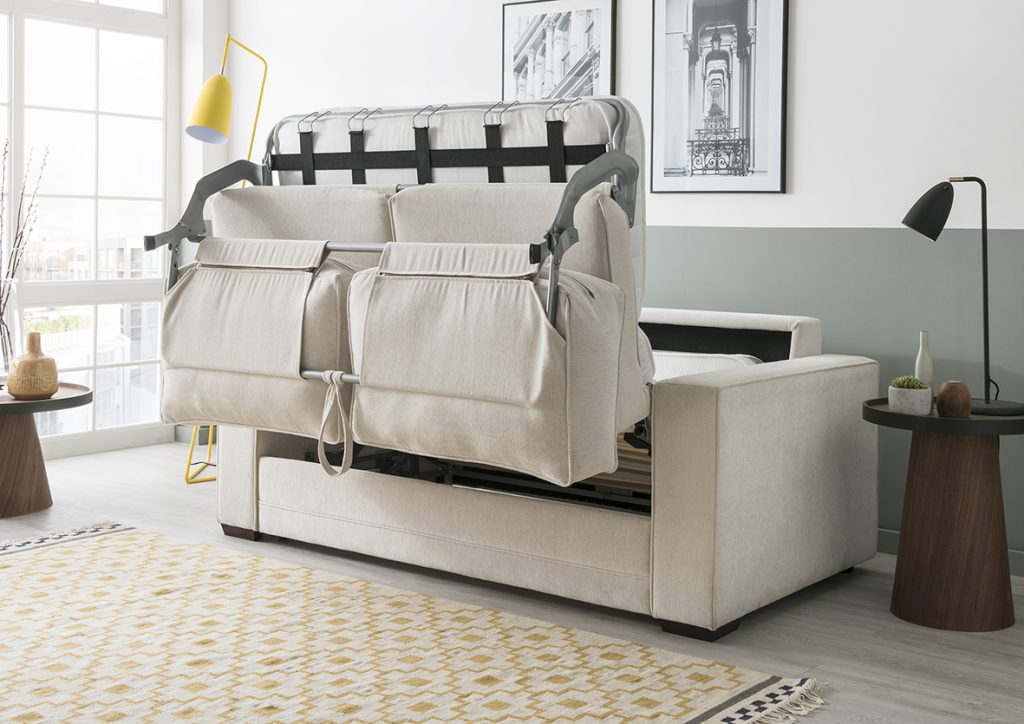 Sofa Beds for Sale in Oxfordshire
Owning a sofa bed offers a plethora of advantages that cater to the modern lifestyle. Its space-saving design is invaluable if you live in a smaller space, allowing you to make the most out of a limited area. Likewise, with its multifunctionality, enhanced by features like built-in storage and ergonomic design, a sofa bed adds another layer of utility and comfort.
If you want to buy a sofa bed, then Abingdon Beds is the leading destination. We stock a number of premier sofa beds for spare rooms, living rooms, guest bedrooms and more places in the home. From the Easy Action sofa bed to the Amy sofa bed, there are a range of options to choose from to suit all tastes and budgets. 
Why not contact us today on 01235 555255 or email us at sales@abingdonbeds.co.uk and we'll get back to you as quickly as possible.